September 27, 2023
How to Boost Your Microsoft Spend with Adarma's MDR Service
Organisations today face a range of challenges that make it increasingly difficult for them to stay secure in an ever-changing cyber threat landscape. These include economic constraints, a shortage of cybersecurity talent, and a surge in cyber threats. Additionally, new ways of working have emerged, resulting in increased pressure on organisations to respond to threats with greater efficiency and effectiveness.
Microsoft Cybersecurity Solutions
One way organisations have responded to this pressure is by exploring Microsoft Security solutions available as part of the Microsoft 365 E5 licence.
Furthermore, this trend for organisations to seek additional capability from within Microsoft Security solutions was reinforced by the responses Adarma received when they surveyed 500 security professionals on whether they planned to consolidate their cybersecurity tooling in the next 12 months; 80% said they are either already in the process or plan to and only 2% did not see a need to consolidate.
The Microsoft 365 E5 licence includes the Microsoft 365 Defender Suite and gives organisations access to market-leading security solutions to protect against cybersecurity threats.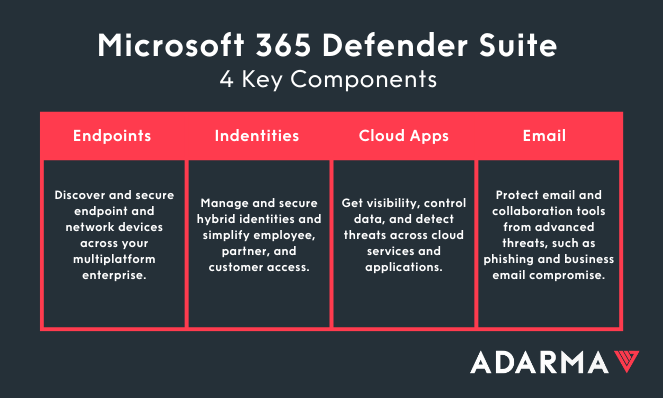 The Skills Gap
Utilising a comprehensive security suite to its fullest potential can be challenging due to the various specialised skills required to cover identity and access management, endpoint detection and response, software-as-a-service (SaaS) application security, email security, threat intelligence and more. Microsoft's 2022 Digital Defense Report revealed that 70% of organisations had skills gaps across security operations, which touches on all these areas. Adarma's report also corroborates this, with over 40% citing expertise and capability as the main challenges to consolidating their security stack.
Threat Response Times
It is not enough to simply implement the technologies, either. Organisations need a quick and efficient way to respond to threats, plus understanding which threats should be prioritised. Our recent report found that less than 40% of respondents are leveraging cybersecurity automation. Just over 40% believe they have the expertise to deliver a good detection and response capability.
Microsoft also found a prevalence of scenarios where organisations had an endpoint protection and response (EDR) solution but were undermined by a lack of security configuration and 52% of organisations had no or little use of EDR.
This means most organisations cannot properly configure and operate the EDR solution to respond to threats before it is too late. Consider the situation where a zero-day ransomware attack gains a foothold on your network. Time is of the essence. Responding quickly by leveraging automation and threat intelligence can drastically reduce the impact of such an attack.
Managed Security Services Provider (MSSP)
Managed security services providers (MSSP) help with the expertise needed to configure and manage such complex security solutions by leveraging their view of the threats facing multiple customers, reducing the time it takes to respond.
An organisation still retains overall control but gains the service wrapper required to fully utilise their security tools. The right MSSP will ensure security controls are utilised effectively.
Microsoft MDR Service at Adarma
We are independent leaders in detection and response services. We specialise in designing, building, and managing cybersecurity operations that deliver a measurable reduction in business risk for our customers. We have developed a Managed Detection and Response (MDR) service based on Microsoft's Defender security suite that helps organisations fully leverage their existing Microsoft investment and cost-effectively stay ahead of threats.
Our MDR is a 24×7 managed threat detection and response service that's easy to adopt and extend, providing outcomes that are the right fit for customers at every stage of their security journey.
Built on the Microsoft XDR suite and integrated into the Adarma Threat Management Platform, our experts identify, investigate, and respond to cyber threats, mitigating risk to your business. MDR is designed to be easy and quick to adopt and give immediate access to Adarma's decades of expertise in security operations delivering a unified and powerful response to defend against threats.
Take a look at the Adarma Managed Detection and Response page to learn more about our MDR service, packed with industry-leading security capabilities and backed by our own team of cyber security experts.