October 20, 2023
Adarma's Sustainability Journey: Achieving EcoVadis Silver Medal Status
At Adarma, we're excited to mark a significant milestone on our sustainability journey. We're delighted to share the news of our Silver Medal rating from EcoVadis, a globally recognised sustainability rating provider. This achievement marks a substantial step up from our previous Bronze status, underscoring our commitment to our Environmental, Social, and Governance (ESG) goals.
Our dedication to sustainability is a fundamental part of our mission to safeguard the digital and physical worlds. We understand the urgency of addressing the climate crisis and are committed to contributing to a more sustainable future. A core sustainability goal is achieving a Gold ranking by 2025, a target well within our reach, given our rapid progress over the past year.
This recognition is a testament to the collective efforts of the entire Adarma team, highlighting the positive impact of working together. While there's more work ahead, this rating signifies that we are on the right path to shaping a more sustainable and resilient future.
Steps Towards Sustainability
To support our ESG goals, we've taken proactive measures to improve our carbon footprint and sustainability, including:
• Cycle to work scheme
• Renewable energy-certified buildings
• Implementation of LED lighting and PIR sensors for reduced energy consumption
• Utilising cloud-based technology via AWS
• Employee-driven reuse, renew, recycle initiatives
• Waste separation programs
• The publishing of our Scope 1,2 & 3 emissions on the Carbon Disclosure Project platform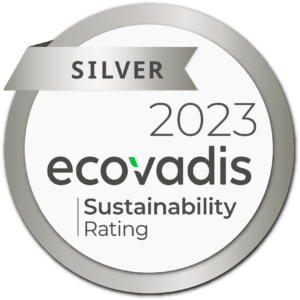 Our Ongoing Sustainability Goals
Moving forward, we remain committed to sustainability with the following objectives:
• Achieving carbon neutrality by 2025: We have taken significant steps to remove Scope 1 and 2 emissions and work with an independent third party are actively track and verify our carbon footprint. A strategy is in place with our leadership team to ensure we achieve our goal of carbon neutrality within the next two years.
• Attaining net zero status by 2045
• Strengthening our supply chain integrity: This means collaborating with partners who share our values of sustainability, diversity, and inclusion, ensuring our entire supply chain aligns with our commitment to sustainability.
Significant advancements have also been made in our social and governance initiatives this year. We've introduced a new bonus scheme, enhanced healthcare benefits and expanded our employee skills development, covering both technical and business skills training.
Additionally, we've all completed mandatory training to raise awareness of our business's governance.
Based on the progress we have made so far and acknowledging the passion and commitment of our people, we are in a strong position to embed ESG principles as a fundamental part of Adarma's culture. This will allow us to deliver excellent results for our customers, employees and all stakeholders. We are thrilled by the progress we have made and the opportunities that lie ahead. Our leadership team's dedicated is reinforced by our strategic priorities and core values.
To discover more about our ESG commitments and the initiatives we're implementing to improve equality, inclusion, and equity across our company and in the community, please read our open letter from our CEO, John Maynard.