September 12, 2023
The Top 5 Challenges Facing Security Operations: Report Insights
In today's digitally driven world, businesses navigate a complex cybersecurity landscape filled with acronyms and an overwhelming array of solutions promising protection from all threats. Adarma's recent report, "A False Sense of Cybersecurity: How feeling safe can sabotage your business," delves deep into the challenges security teams face in this fragmented environment. It also explores strategies to overcome these challenges, shedding light on the ever-evolving world of security operations.  
Challenge 1: The Expanding Attack Surface
"Our IT environments have become hugely complex and expansive over recent years. As organisations have moved to the cloud, and many have enabled a largely remote workforce, the attack surface has grown," states John Maynard, the CEO of Adarma. The shift to cloud services and remote work has dramatically expanded the potential avenues for cyberattacks, forcing security teams to adopt various technologies to keep up. 
Challenge 2: Misplaced Confidence
One intriguing revelation from the report is the inverse relationship between confidence and the likelihood of a cybersecurity breach. Surprisingly, organisations with high levels of confidence in their security controls are more likely to have experienced a breach. This paradox raises questions about complacency and the potential vulnerabilities overlooked in the wake of misplaced confidence.  
Challenge 3: Tool Sprawl – A Double-Edged Sword
One of the report's key findings is the phenomenon of "tool sprawl." A staggering 61% of cybersecurity professionals face challenges due to the overwhelming complexity and clutter in the market. While some tools excel in monitoring specific data sources, they often lack visibility into other critical IT infrastructure components. This creates what the report aptly describes as "analytic islands" that hinder comprehensive threat detection.  
Scott McElney, CISO of the Weir Group, warns about the pitfalls of accumulating too many tools: "More tools could add more risk if you don't have the expertise to fine-tune and harmonize them across your digital ecosystem. Security professionals tend to specialize in one technology, making it difficult to find someone who can specialize across multiple technologies." 
To combat this complexity, 80% of respondents are either consolidating their security tools or planning to do so. They believe that consolidation will lead to easier management, fewer integrations, and reduced reliance on specialised expertise, ultimately maximising the efficacy of their current products.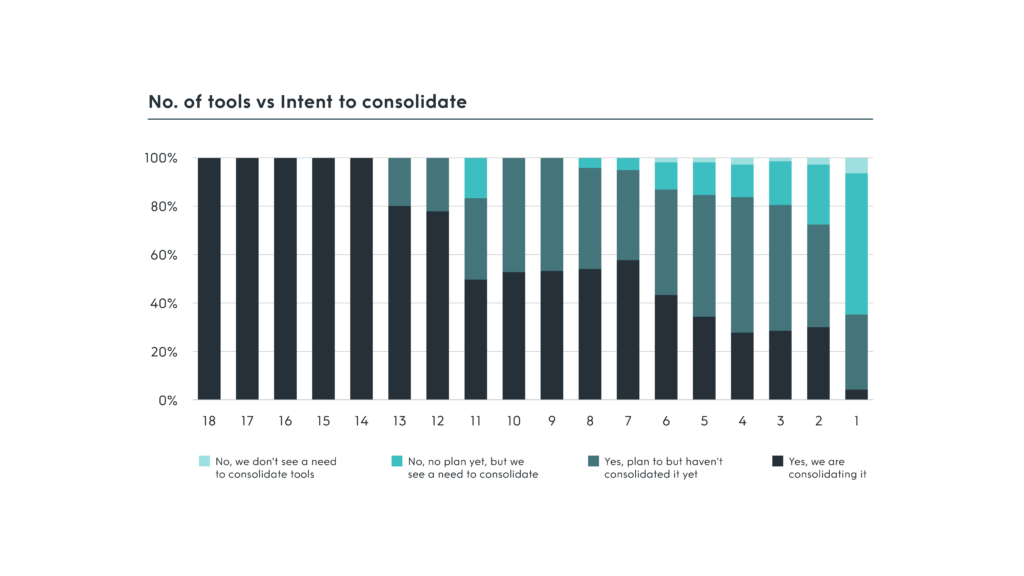 Challenge 4: Implementing AI And Automation
Artificial Intelligence (AI) and automation hold great potential for security operations. According to the report, 61% of SecOps leaders believe AI can manage up to 30% of security tasks, with 17% projecting this number to rise to 50% in the coming years. While AI is still in its infancy, it's anticipated to provide better contextual information, reduce manual tasks, and increase efficiency and accuracy. 
One key application of AI in cybersecurity is the reduction of false positives. AI has the potential to understand, based on a specific environment and user behaviour, what constitutes a genuine alert. However, some argue that AI currently generates more alerts than it eliminates. 
"95% of alerts are false positives, but they still require a human to look at them; arguably, AI could reduce that significantly," notes the cyber operations director of a major UK insurer. 
Challenge 5: Talent Shortage
The report highlights the ongoing cybersecurity skills shortage, with 51% of organisations reporting stressed and challenged staff. To address this issue, two-thirds of respondents see recruiting from a diverse talent pool as a potential solution. Additionally, 35% are open to working with Managed Security Service Providers (MSSPs) to alleviate skill shortages and reduce internal team burnout.  
Over half (51%) of the organisations surveyed are concerned that stressed and exhausted security staff could make them more vulnerable to cyberattacks. This is exacerbated by the passionate and dedicated individuals working in the field, who often put immense pressure on themselves to protect their organisations. 
As one cyber operations director aptly puts it, "the days are long, and it requires heavy focus. But the pressure is also there because, within this industry, you have very dedicated individuals who care. It's not often you find someone skilled up that doesn't care; it's almost like we're victims of our own passion." 
Conclusion
Adarma's report paints a vivid picture of the challenges and opportunities in the world of security operations. It is a landscape where organisations must strike a delicate balance between trust in technology and trust in their people. By addressing tool sprawl, harnessing the power of AI, and embracing a diverse talent pool, businesses can navigate this landscape more effectively and build resilient security operations. 
For more in-depth insights and practical recommendations on addressing these cybersecurity challenges, we encourage you to download the complete report, including expert advice from our security operations experts.  
Let's Talk 
If you would like to learn more about how Adarma can support your organisation's cyber resilience, please get in touch with us at hello@adarma.com
To hear more from us, check out the latest issue of 'Cyber Insiders,' our c-suite publication that explores the state of the threat landscape, emerging cyber threats, and most effective cybersecurity best practices.  
You can also listen to our new podcast, which explores what it's really like to work in cybersecurity in today's threat landscape.  
Stay updated with the latest threat insights from Adarma by following us on Twitter and LinkedIn.